Tandem Instructor, USPA Coach, Senior Rigger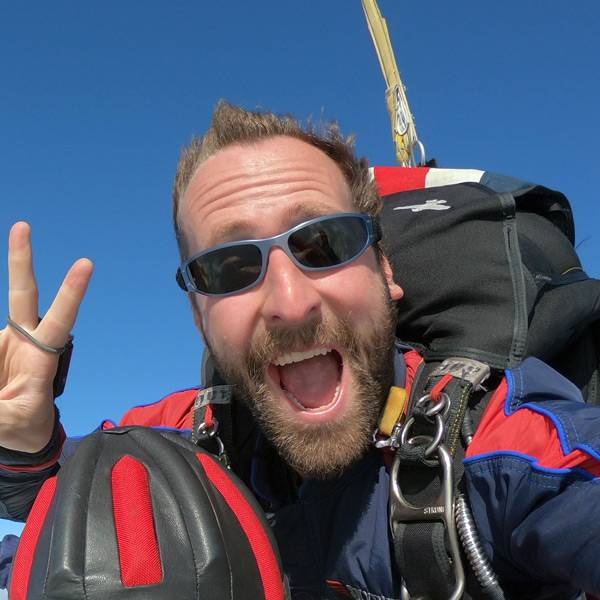 What advice would you give to someone thinking about jumping for the first time?
Skydiving is something your brain cannot understand prior to having the experience. We are land mammals so you will have to let this experience teach you what it means to live in the sky!
Get To Know Kory Simonsen
What is your USPA License Number?
D-30632
Please list your USPA Ratings:
Tandem Examiner, Tandem Instructor, Static Line Instructor
When you were a kid, were there any early activities that might indicate you'd one day become a skydiver?
I was always attracted to flow sports (skiing, skateboarding, dirt bike riding).
What was the circumstance that led you to the DZ for the first time to make your very first skydive?
I could not wait to skydive. As soon as I turned 18 I knew exactly where to go.
What made you want to continue skydiving after your first jump?
After my first jump, I was hooked. I started getting my license and was offered a job to answer the company phones. The rest is history.
What's the best / most memorable skydive you've ever made?
Far too many amazing skydives. Jumping from hot air balloons, helicopters, paraglider and sharing the sky during a sunset with your best friends just doesn't get better.
As an instructor, what has been one of the most meaningful jumps you've made with a student?
Every jump with a first time jumper is so meaningful to me cause they are bringing me into their story with what the experience means to them. I have taken those suffering with severe depression looking to feel alive again to people celebrating their 95th birthday and everything in-between. I love to hear the story.
If you could jump with anyone in the world, who would you like to jump with and why?
I love making dreams come true. If it's your dream to fall from an airplane then I want to take you!