First Time Skydiving
Tandem Skydive With An Experienced Instructor
Getting ready for your big day?
Here's The Skinny On What To Expect.
Skydiving is rich with memories and rewards that you'll carry all of your days. All first-timers jump tandem, meaning you'll be harnessed to one of SkySno's highly-credentialed tandem skydiving instructors who will coach and guide you every step of the way.
We want you to feel empowered and supported throughout your tandem skydiving experience. To help you get ready for your big day, watch our video for a better idea what to expect skydiving for the first time.
Are You Ready?
Wondering if you are eligible to skydive? The minimum skydiving age requirement is 18 years old. Students 65 and older must provide a medical clearance signed by their doctor within 60 days of their scheduled skydive. The skydiving weight limit is 220lbs, or 230lbs if you are 6ft or taller.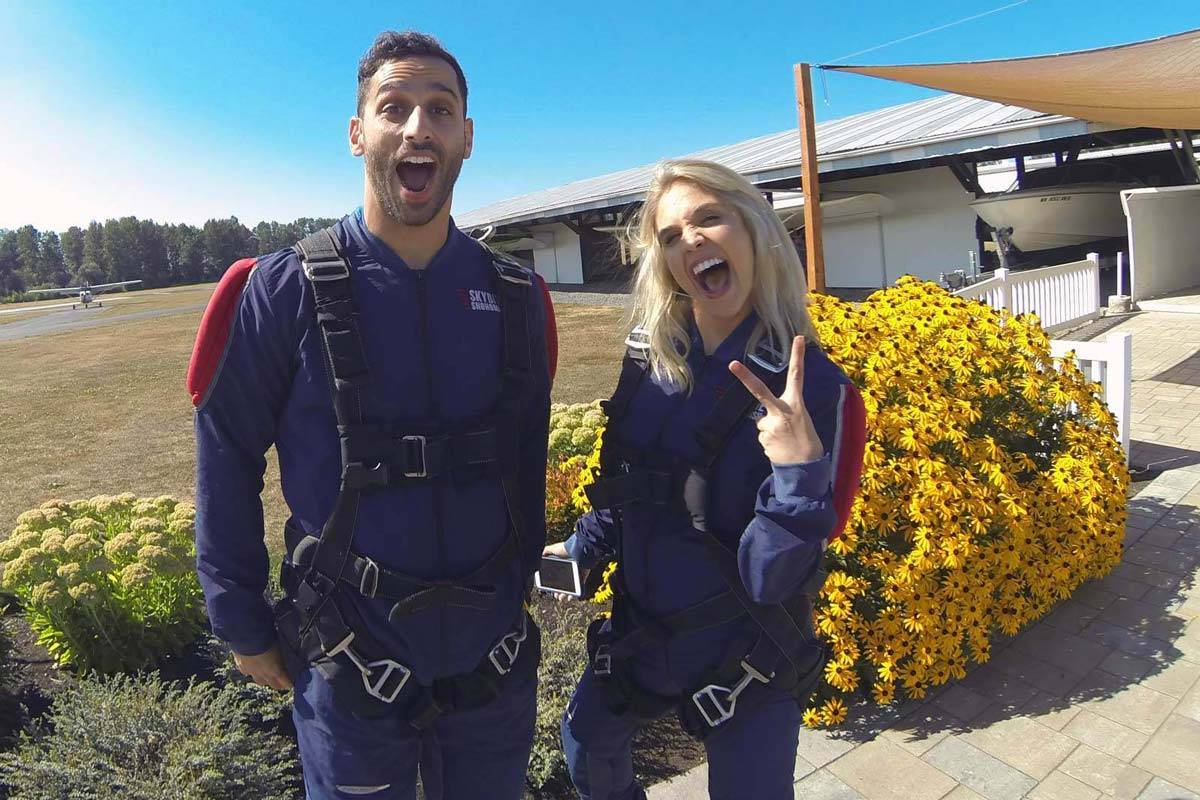 Plan Ahead
Classes Do Sell Out
Except for November and December, we jump year-round. Every promise of blue skies over the Pacific Northwest leads lots of enthusiastic first-timers to book their tandem skydive. Often times we can accommodate last minute reservations but we highly recommend scheduling in advance because class times do sell out.
On the day of your jump, plan to spend up to three hours with us. While skydiving itself from wheels up to feet down takes less than an hour, there will be multiple flights per class and we need time for paperwork and training.
We'll update you two hours ahead of your class to confirm if the weather is suitable for skydiving. That way, if conditions are iffy or unfavorable, you'll be able to make informed decisions before making your way out here, if necessary. Please remember skydiving is a weather dependent activity so it's not a bad idea to have a Plan B in mind, just in case!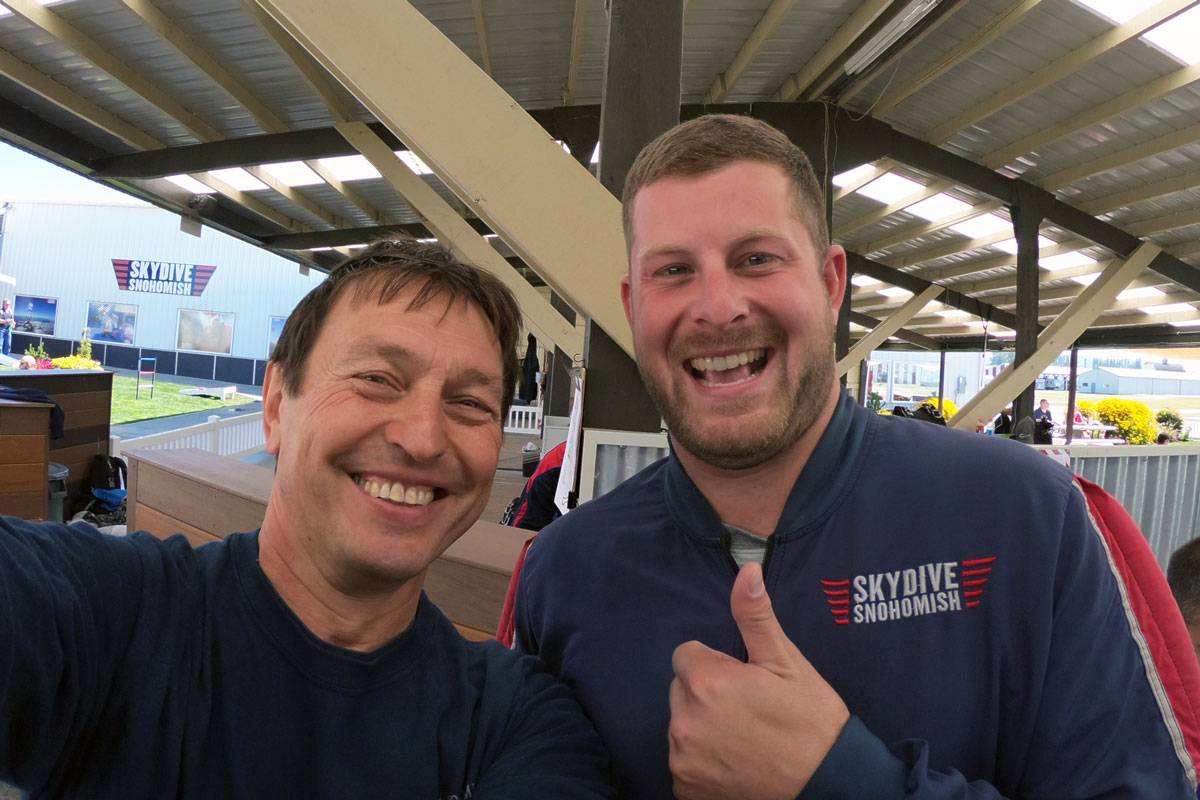 Day-Of Details
Preparing For Your Jump
Arrive at least 30 minutes ahead of your class time and head straight to the office to sign in, complete your waiver, choose your video + photo package and payment method.
Next stop is ground school. Over the course of a 30-minute class, you'll gain an overview of the day, learn who does what, and get acquainted with the tandem equipment, including how it operates and safety features.
Before "gearing up", you and your instructor will physically practice the exit from the plane, body positioning for freefall, parachute control, and the proper landing position.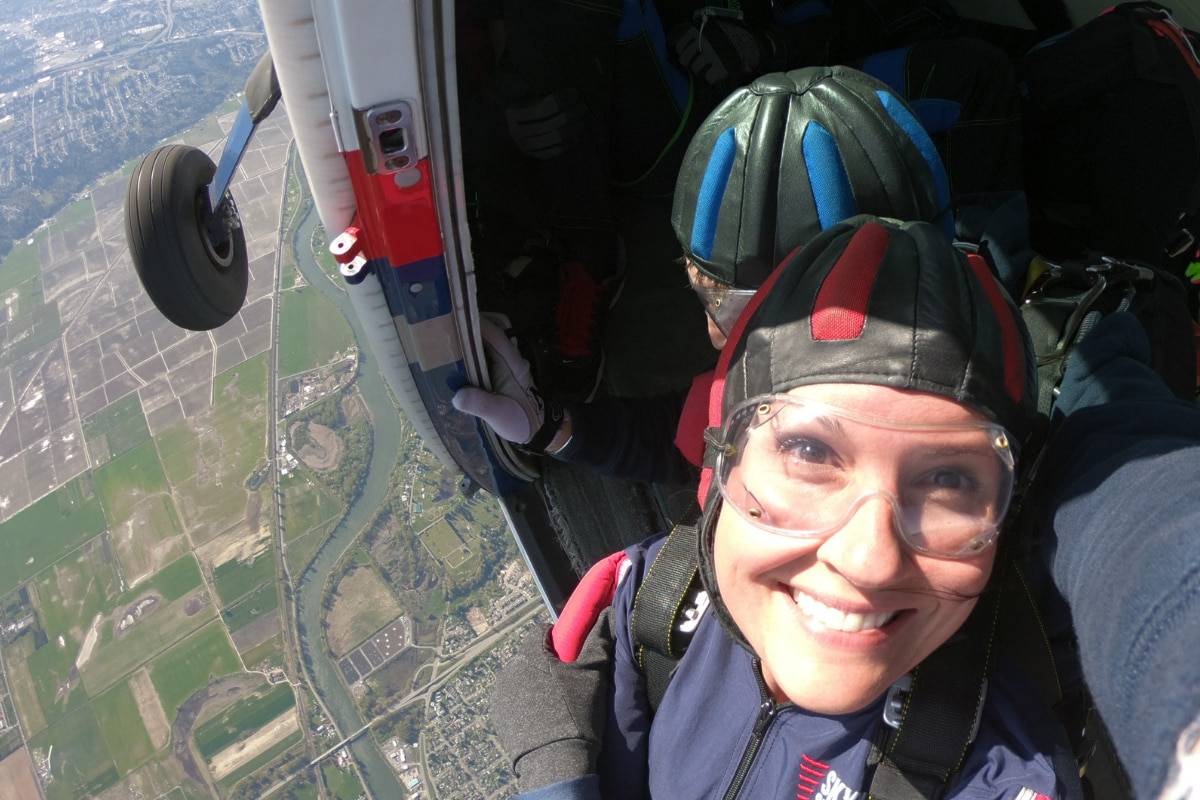 The Flight Up
Enjoy The View
Once on the plane, it will take 12 to 15 minutes to reach our skydiving altitude. As you ascend, you'll have an opportunity to take in Mt. Rainier, Mt. Baker, the Puget Sound, the Cascade and Olympic Mountain ranges, the Seattle skyline, Victoria, and the San Juan Islands.
As you approach altitude, your instructor will review the steps of the skydive one more time. And then, between either 8,000 and 10,000 feet or 12,000 and 14,000 feet – depending on the package you purchased – your instructor will perform final safety checks and prepare for exit.
Your instructor will then lead you to the door and LEAP!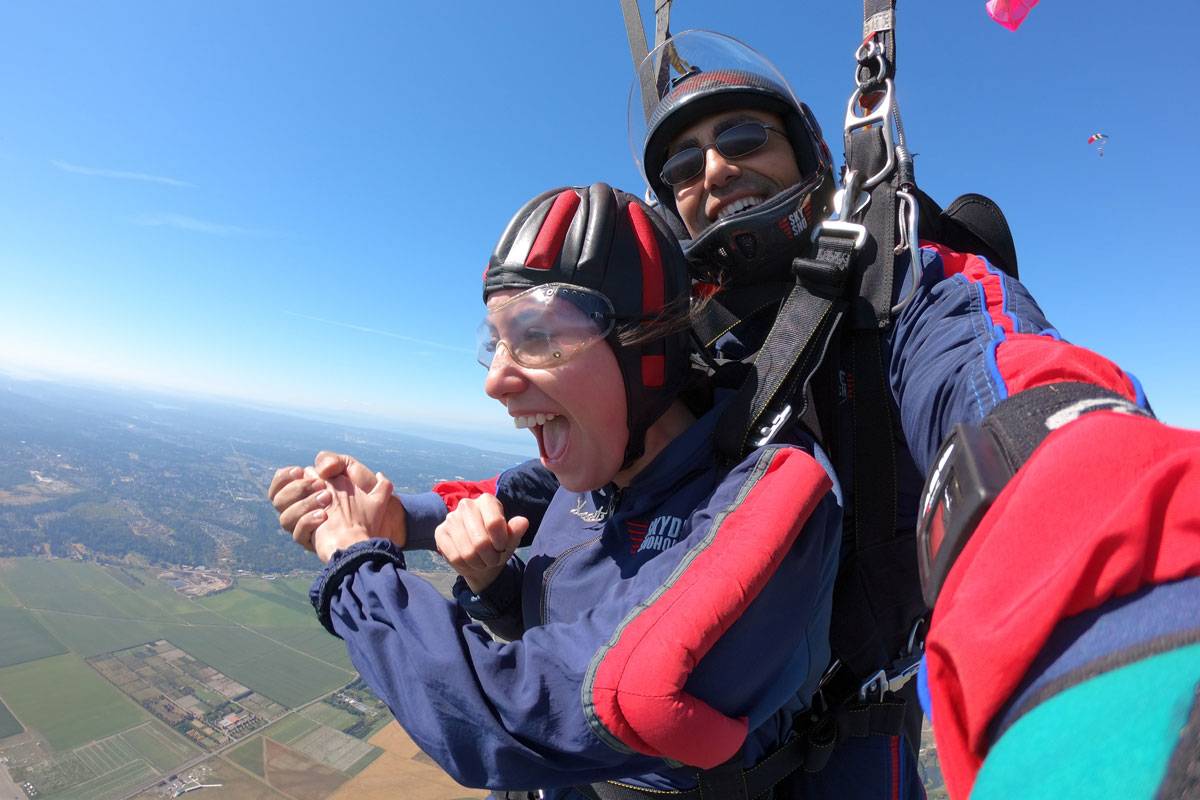 The Ride Down
Freefall & Canopy Flight
Skydiving has two speeds – 120 mph during freefall and around 20 mph under parachute.
Freefall refers to fly time with the parachute contained. From 8K-10K feet, freefall lasts about 30 seconds; from 12K-14K feet, it's closer to 60 seconds. Due to wind resistance, you feel like you're surfing on the air rather than falling. This is human flight; the childhood dream we've longed to experience or the one we yearn to remember. Pure adrenaline-laced exhilaration.
Around 5,000 feet, your instructor will deploy the parachute – also known as a canopy. In contrast to the excitement and speed of freefall, you'll experience the serenity and calm of canopy flight. If you're keen, your instructor will let you steer, even turn and spiral. Or you can relax and soak in the incredible views.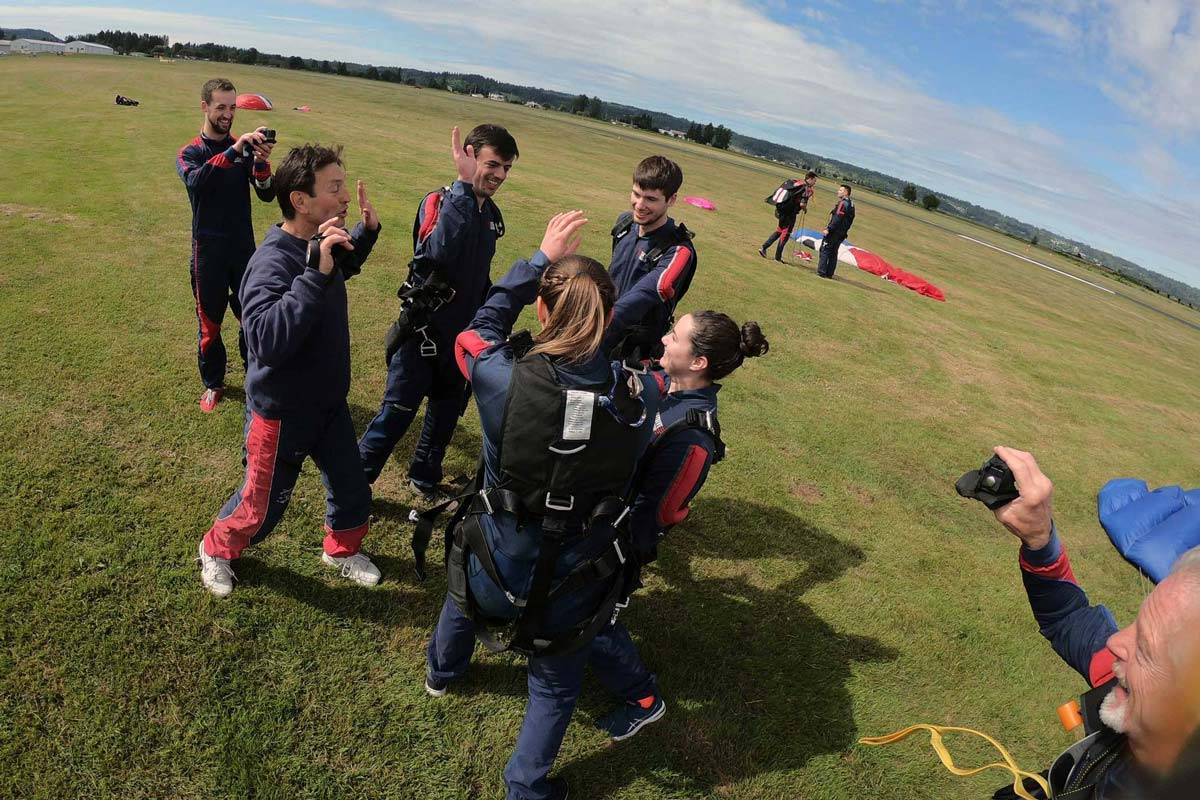 Terra Firma
Time To Celebrate!
Back on the ground, you'll be greeted by our ground crew who have seen it all – shrieks of delight, expressions of accomplishment, tears of joy and reclamation, victory dances and huge hugs. They'll collapse the canopy and your instructor will help you out of your harness so you can start celebrating your enormous achievement.
In recognition of your accomplishment, you'll receive a personalized skydiving certificate – proof that you've realized something select few have the courage to attain!
Let's Do This!