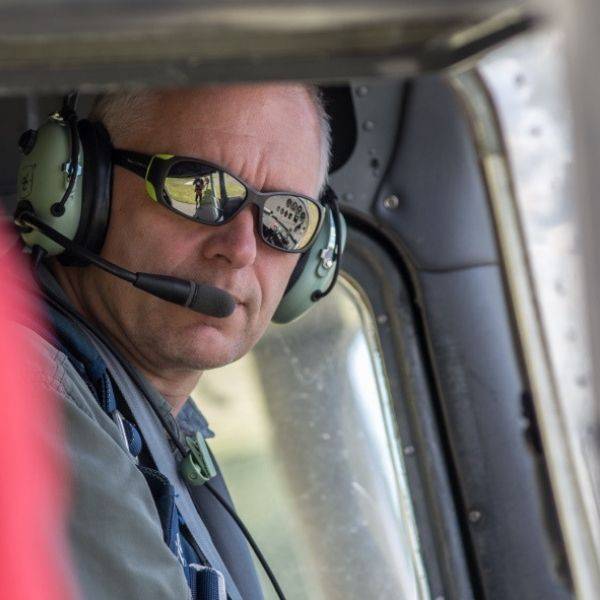 What advice would you give to someone thinking about jumping for the first time?
Don't go for the first drop-zone you come across just because it is the closest to home or the least expensive. "Shop around" by checking out their operations, look at their facility, their planes, and talk to the staff. You should be looking for well maintained facilities, well maintained equipment (parachutes, aircraft), and how they treat their customers: Are they considering their customers just as the next source of income, or do they treat them with respect? Do they look after them even once the skydive is complete? Do they address all concerns and questions you might have? If the dropzone deserves your time and money, you should feel comfortable any minute of the way... And if they do, you will make friends for life.
Get To Know Dieter Zube
What License do you hold?
FAA pilot license
Please list your FAA Pilot Ratings:
Commercial Pilot, Instrument Rated, Single Engine Airplane and Multi-Engine Airplane Land, Single Engine Sea.
When you were a kid, were there any early activities that might indicate you'd one day become a pilot?
I had been interested in aviation from an early age, building and flying radio controlled planes. Having friends with pilot licenses and having had the opportunity to fly with them made me seek out the opportunity to get a license myself once in college – as a student of aerospace engineering, of course…
What was the circumstance that led you to the DZ for the first time?
As a post-graduate student and while I already had my pilot license, a good friend who is a very experienced jump pilot made it possible for me to participate in a weekend skydive course for glider pilots. The jump was a static line jump from 3000 ft, I got within 10 ft of the landing X… My friend had told me about the sport, and I wanted to experience it for myself.
What made you want to continue to be around skydiving?
This one jump was back in 1994. Many years later – in 2005 – I got the opportunity to start flying as a jump pilot myself for Skydive Snohomish. I was immediately drawn to the community of skydivers – a very energetic group, fun to hang out with, always enjoyable even during rainy days with that little hope of improving weather conditions, although the weather forecast should really have told us that we should have gone home hours ago (or not even bothered to come to the DZ in the first place).
What's the best / most memorable flight you've ever made?
I really cherish the opportunity to be the jump pilot for night jumps. While the plane obviously doesn't know the difference between night and day, there is a special serenity on those flights. Also, my passengers – the skydivers – on those flights seem to be more motivated and especially eager to soak it all in. If the night is moonlit, nothing can beat that…
As a pilot, what has been one of the most meaningful jumps you've participated in?
Drawing on my experience as a jump pilot for students, licensed jumpers, and tandem jumpers, I got the most pleasure out of first time tandem or static line students, who were apprehensive about their jump, and who then beamed for joy after the jump that it was the best thing they ever did so that they stayed with the sport to become licensed.