Pro Tips For Organizing A Group
Tuesday, May 28, 2019
If you're reading this article, you're likely the detail-oriented researcher among your friends. Which means you're likely to raise your hand to be the group organizer for your skydive.
We're all about the details too, so this is for you, kindred spirit: some options for organizing your group ahead of your big day of skydiving.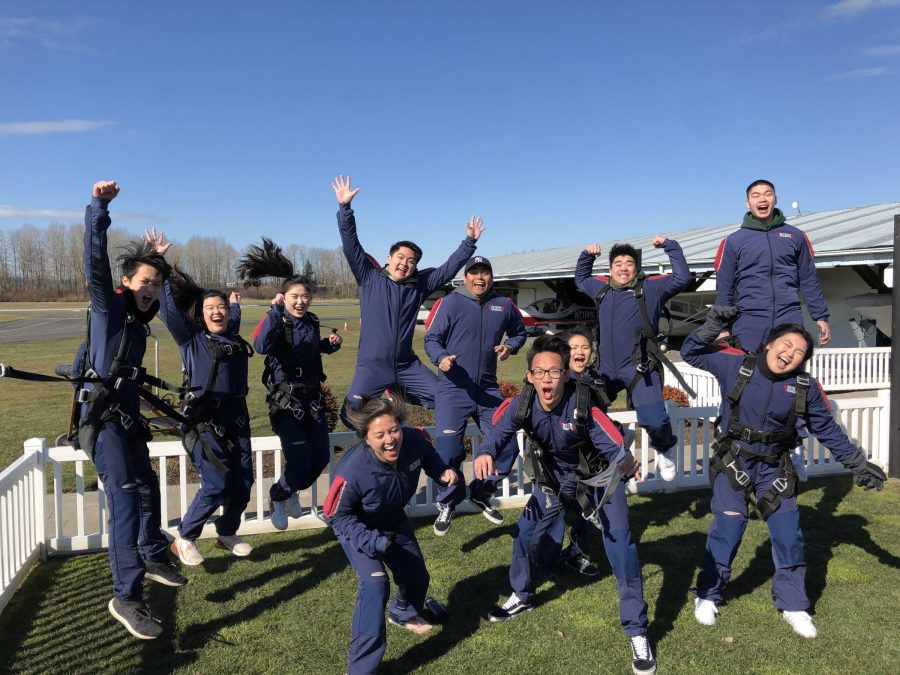 OPTION 1: SPREAD THE WORD (Recommended)
Some organizers choose the "plant a seed and watch it grow" approach to forming a group.
They connect with everyone they would enjoy sharing skydiving with and give them the rundown of the what, when and how … and then leave it up to the group members to actually reserve their slot and make the $100 non-refundable deposit.
As your astute researcher brain has likely sussed out already, there are some pros and cons to this approach:
PROS:
Each group member makes their own $100 non-refundable deposit, rather than the group organizer ponying up the funds and keeping tabs of IOUs.
Reservation information, expectations, and policies are communicated directly to each group member, by us, instead of you.
CONS:
Spaces on the jump schedule remain open to the public until group members make their reservation.
Group members who delay in reserving their class time may lose the opportunity to jump with the rest of their group.
If the pros outweigh the cons of this approach, here are some pro tips on pulling off the Spread the Word way of organizing your group:
Determine a date and class time that works well for your group. Check availability here or call at 360-568-7703.
Make your own reservation online or by phone (360-568-7703).
Announce the event to group members. Best methods include Facebook Events or Messenger, Evite, email, or a good old-fashioned poster.
In your announcement be sure to share the following information:

Group Name (Feel free to get fun with it!)
Date AND Class time
Age and weight restrictions (see the FAQ answers below for details)
Pricing (see the FAQ answers below for details)
Link to scheduling: https://www.tandemrs.com/skydivesnohomish/

Encourage your crew to book quickly – space is limited, open to the public, and on a first-come-first-served basis.

OPTION 2: SEAL THE DEAL
For groups committed to the idea of jumping on the same day and time, some organizers choose to pay the $100 non-refundable deposit on behalf of each member of the group.
PROS:
All slots are held at the time of reservation and are no longer available to the public.
Everyone in the original group can count on being in the same class together.
CONS:
The organizer is responsible for confirming compliance with age and weight requirements and is charged with communicating all reservation information, policies, and procedures to group members.
The organizer may end up holding the bag, i.e. forking out $100 deposits that are subject to forfeit for group members who are late, don't show, or don't meet the age/weight limits.
Organizers who opt for the "Seal the Deal" approach might benefit from these pearly words:
Confirm everyone's eligibility for jumping at Skydive Snohomish (see the FAQ answers below for age/weight restrictions).
Confirm date and class time works for everyone.
Confirm class time availability here or call at 360-568-7703.
Collect group member deposits ahead of time.
Make your group reservation online or by phone (360-568-7703).
Communicate policies and procedures included in the email confirmation to group members. You can input their email addresses during the reservation process, which will provide them with their own reservation confirmation, or you can forward it from your email or print and distribute copies.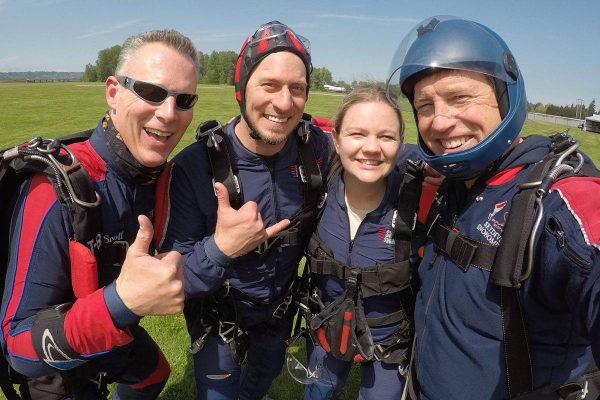 FREQUENTLY ASKED QUESTIONS, ANSWERED
Whichever option you choose to organize the masses, here are some answers to frequently asked questions that will help everyone get on the same page:
Age Restrictions
You must be between age 18 and 65 (65+ welcome with medical clearance). All jumpers must show a valid, government-issued photo ID.
Weight Restrictions
For safety reasons, you can weigh no more than 220lbs (up to 230lbs for 6ft+) to jump at Skydive Snohomish.
Group Discount:
Groups of 4-6: $10 off per person
Groups of 7-9: $15 off per person
Groups of 10+: $25 off per person
Extra Freefall Option: $35
60 seconds instead of 30 (worth it)
Professional Video PLUS Complimentary Photos: $97, including tax.
Every media package comes with three different video edits PLUS approximately 150 complimentary photos for no additional charge!
If you or members of your group have questions not addressed here, check out our full list of FAQs or give us a ring at 360-568-7703.
And behalf of your group members – thank you for being so organized!
We look forward to seeing you all soon. Blue skies!
Are You Ready?