What Will Skydiving Physically Feel Like?
Tuesday, April 30, 2019
Ok. Let's jump right in.
You want to know how it feels when you jump out.
People generally think that skydiving freefall will feel like one of two things – falling like a stone to Earth, or that drop in your stomach you get on a roller coaster. We love a good roller coaster, but we're happy to report that skydiving cannot be compared to either of those experiences.
Here's why: the plane is already moving at 80-90 MPH. When you exit the aircraft, your body accelerates 40 MPH over a period of 10 seconds until you hit freefall speed of 120 MPH. To put that in perspective, you'd likely experience more acceleration trying to merge a 1970's VW Beetle onto the freeway.
Now that we have that puzzle piece in the right place in your mind, let's talk about the other things you'll physically feel during your jump:
Jumpsuit
Everyone who jumps with us at Skydive Snohomish wears a jumpsuit – zip-up coveralls made especially for skydiving. Your jumpsuit will be worn over your street clothes and can be snug or slightly roomy depending on what's most comfortable for you.
Harness
Tandem jumpers wear a harness comprised of pads and straps that securely attach the student to the instructor. The harness will feel snug or even tight when standing and in freefall, but it'll appear somewhat loose on the shoulders while sitting and in the aircraft.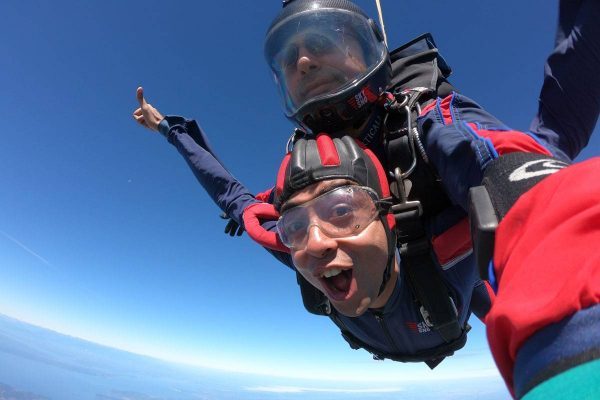 Frap Hat
Every tandem student wears a leather cap called a frap hat. Secured with a chin strap, it's not the most becoming of accessories, but it's important. Frap hats keep your hair out of your instructor's face, provides abrasion protection should you need it, and keeps your ears warm and shielded from the noise of the wind.
Goggles
We'll kit you out with a pair of goggles that will protect your eyes and let you keep them wide open so you can take in the glory of the Snohomish River Valley. Your goggles will be as tight as is comfortable to keep them from sliding up during freefall – especially important for those who wear glasses.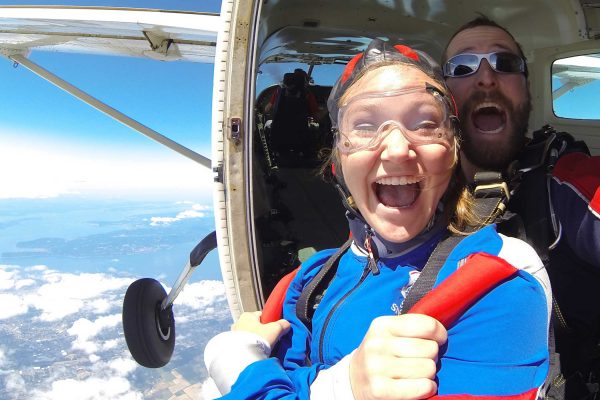 The Flight Up
The ride up to altitude in our Enhanced Cessna 182 or Cessna Grand Caravan is smoother than a commercial airline flight. All of our pilots hold a Commercial Pilot certificate issued by the Federal Aviation Administration (FAA). Everyone wears a seatbelt and everyone gets a window seat, meaning you can take in the Puget Sound, Cascade and Olympic Mountain ranges, Seattle skyline, Victoria, and the San Juan Islands. Gorgeous.
Freefall
We covered the feeling of the plane exit, so let's talk about freefall. Like a dream-come-true, freefall is flying not falling. Positioned belly-to-Earth, your body is supported by wind resistance so you have some control and can intentionally maneuver. Just like holding your hand out the car window, you can feel the resistance of the wind pushing against your hand and you can move it all around without losing the tension.
Parachute Opening
At around 5,000 feet, your tandem instructor will deploy the parachute – or canopy as it's commonly called in the field. Immediately and significantly increasing your wind resistance, the canopy slows you from 120 MPH to about 20 MPH in about five seconds. Think of braking hard in your car as a comparison – except your weight is distributed more evenly in a multi-strap harness than with a single seat belt. Some people do feel a bit of discomfort during opening, but it's not the norm.
Canopy Flight
If freefall is the rush of rapids, canopy flight is the lazy river. Once the parachute opens, you'll be upright in a seated position with most of your weight resting on wide leg pads – kind of like sitting on a swing. This is the part of your skydive that can be catered to you. Want to gently soar around like a bird? Done. Want to dive down, twist and turn, or even create that stomach-drop feeling of a roller coaster? Done. If you're loving your choices, tell your instructor — and if you're not, tell them quick! Getting sick during skydiving is usually caused by a wild time under canopy.
Landing
Modern parachutes are designed to create a little bit of lift prior to landing, which means that in addition to being super controlled they're usually soft. There's almost no descent before touchdown. There may be a little pick-up in speed before landing, though, so we teach you to lift your legs and let us slide on in to home on our backsides. Our landing area is groomed like a golf course so there's no threat of a bumpy ride.
Now, the emotions you'll feel are a whole other topic. In short – excited, euphoric, renewed, empowered, accomplished, unstoppable … ON TOP OF THE WHOLE WIDE WORLD!
Ready For The Best Day Ever