Tandem Instructor, Videographer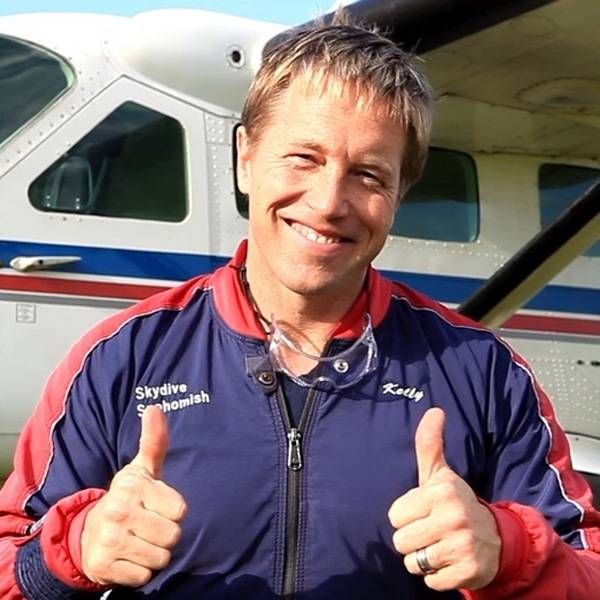 What advice would you give to someone thinking about jumping for the first time?
If you are at at all thinking about making a tandem skydive, do it! You won't regret it. When you come out to jump, your #1 rule is to smile and have fun. My #1 rule is to keep you safe, so that you can relax and have fun!
Get To Know Kelly Craig
What is your USPA License Number?
D26399
Please list your USPA Ratings:
Tandem Instructor
When you were a kid, were there any early activities that might indicate you'd one day become a skydiver?
Sports have always been a big part of my life, but after high school, there wasn't much opportunity to play on a football team or to continue wrestling. Skydiving became the perfect sport for me as an adult, because not only does it allow me to continue being physically active, but I also get to be part of a really great team at the drop zone.
What was the circumstance that led you to the DZ for the first time to make your very first skydive?
My family bought a tandem skydive for my dad on his 50th birthday. He loved it so much, that I had to try it myself.
What made you want to continue skydiving after your first jump?
When you're skydiving, you forget about everything else, except that skydive. It gives you an incredible sense of freedom. It was that feeling that made me want to come back and get my skydiving license.
What's the best / most memorable skydive you've ever made?
It's not the most memorable jump, but it turned out to be the most important jump in my life. It was a jump where I did video for a tandem student named Janeen. She had a friend with her, named Pennie, who turned out to be my future wife, and gave me two beautiful daughters.
As an instructor, what has been one of the most meaningful jumps you've made with a student?
My most meaningful jumps are when I get to take someone on a skydive who can't do it on their own, such as someone with a physical impairment. I had the opportunity to take a quadriplegic man on a tandem skydive, which was particularly meaningful to me. Being able to provide him with such a memorable and completely freeing experience, was such an honor for me. I will never forget how his face light up with pure excitement! It was so awesome and one of the reasons I love my job so much.
If you could jump with anyone in the world, who would you like to jump with and why?
Honestly, I wouldn't choose a famous person or celebrity. Instead, I'd choose to share the experience with a Make-A-Wish kid. It's a chance to give them a few moments in the air where they can escape all of their worries and experience an incredible sense of freedom.