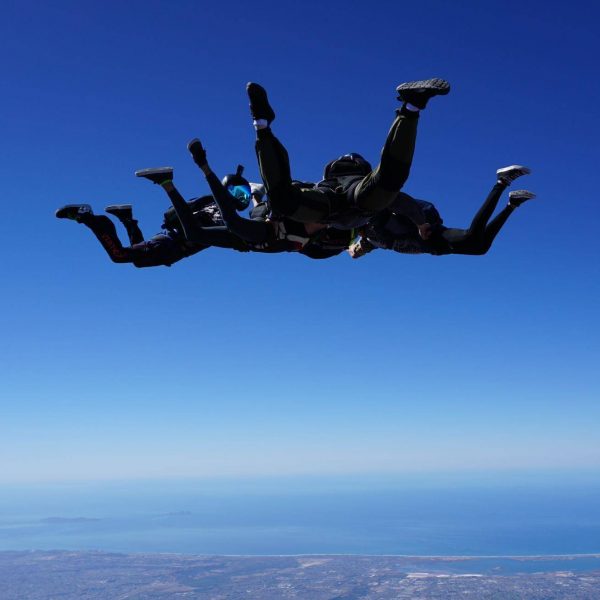 What advice would you give to someone thinking about jumping for the first time?
If you have questions, ask. Most skydivers are incredibly nice and love to share their knowledge. Safety is the number one thing to keep in mind while skydiving. The more you know the safer you can be and the more fun you can have. If you ever have questions, don't hesitate to ask questions.
Get To Know Kim Houlihan
What is your USPA License Number?
B-49440
Please list your USPA Ratings (if any):
Coach
How many jumps do you have?
190
When you were a kid, were there any early activities that might indicate you'd one day become a skydiver?
I didn't do anything as a kid but watch TV. I had no idea I'd like jumping out of planes when I grew up.
What was the circumstance that led you to the DZ for the first time to make your very first skydive?
I started jumping in the military and it took only once before I was hooked. It wasn't long after my first jump that I transitioned to the sport side of skydiving and got my USPA rating(s).
What made you want to continue skydiving after your first jump?
The thrill. I had so much fun after my first jump there was no way I couldn't keep jumping. I was also surrounded by jumping and skydivers because of my job, so it was kind of a given that I'd make my way into the sport.
What's the best / most memorable skydive you've ever made?
My most memorable skydive was one of the first ones I did outside of the military. I was incredibly nervous because the sport side and the military side are so incredibly different . I showed up at the dropzone and told everyone my background and they were super supportive of me. They guided me through everything I needed to know and were super understanding about any things I didn't know about the sport side of skydiving. Then they invited me to do a four way, which is something I had never done before. A complete stranger let me borrow her jumpsuit and I jumped with some incredibly awesome and knowledgeable people. I had so much fun but, more importantly, I learned a ton. That experience was what I wanted to make sure I modeled for newer jumpers that came after me.
If you could jump with anyone in the world, who would you like to jump with and why?
I would love to jump with my husband one day. He's done a tandem once, but I'd really like for him to be able to jump solo so we can share the experience together.